Welcome to the Glenn Beck Lie of the Day archive page! Last update 7/30/10.

Reminder: Please remember to click the Facebook Like and Retweet buttons if you do social networking. There are other social networking tools at the bottom of the page. Don't forget to book mark! Thanks in advance!
Looking for the incomparable Lies Spreadsheet? Click
HERE!
Warning! You are entering a world of lies, insane conspiracy theories, smears, falsehoods by omission, character assassination, and worse. Please fasten your seat belts; the Krazy Train is known to be a bit bumpy at times.
This is where debunked Glenn Beck lies go to die. For now I will set them up on a quarterly basis. This page will be the current quarter.
The Glenn Beck Lie of the Week will be in red.
====================================================
Week of 7/19/10
7/19/10 - Glenn says the Tea Party is not racist, the NAACP is - Apparently Glenn missed the email from Tea Party Express founder Mark Williams. Did we forget about the Obama monkey signs at the TeaBagger marches? Oh, that's right, those were "infiltrators"…. white liberals disguised as haters. LOL
7/22/10 – Glenn claims that the "Republic is over" because of the passage of the Wall Street reform legislation. Ummm… look out yer friggin' window, Glenn.
7/23/08 – From July 8… Glenn claims that there is a conspiracy to sanitize the history of Robert Byrd. Glenn goes nearly hysterical because he and "Tiffany" were trying to find film of Sen. Byrd filibustering the Civil Rights Act in 1964 and couldn't turn any up. (Cameras not allowed into the Senate chambers until 10 years later). "We have re-written history… and we are only looking for the truth that helps our side. It must stop!" Oh, please, Glenn, your "research", which you sometimes claim that you do ALL OF IT by yourself, seeks only to find factoids that bolster the conservative narrative or "prove" that some conspiracy or smear is true. You use a stack of books as props, just like Elvis, only in your case it's not the books that are empty, it's your HEAD.

7/24/10 – from July 17… Glenn Beck claims that Rev. Al Sharpton is trying to tell you that Dr. King's "dream" was all about wealth redistribution. Glenn shows some grainy footage where Reverend Al Sharpton uses a rhetorical device (the repetition of the word "house" at the end of the phrase) to describe why the election of Obama as President does not end the struggle for racial equality. Sharpton says:
The dream was not to put one black family in the White House
the dream was to make everything equal in everybody's house.
Beck takes this for a completely irrational spin on the Krazy Train as only he can do it. According to Beck, Sharpton is claiming that Dr. King's dream was to redistribute wealth.
OK… first, Beck does NOT know more about Dr. Martin Luther King than Reverend Al Sharpton does, PERIOD. He was 4 years old when King was shot, Sharpton has been active in civil rights since 1969 and is a friend of the King family. Second, Dr. King never meant that civil rights equality meant financial wealth redistribution (however, Glenn Beck probably doesn't know this but Dr. King was a proponent of reparations… so Glenn, when you say you want to TAKE BACK CIVIL RIGHTS because YOU are the one who "did it", is that what you mean? S-C-A-R-Y socialists. Third, Sharpton was CLEARLY talking about civil rights and social justice, not wealth redistribution. If you listen to the speech, right before he states the part about "making everything equal in everyone's house" he is describing his own work with President Obama in the civil rights arena. Big FAIL, Glenn, and another BIG LIE.

7/25/10 – from July 23… Glenn calls Chicago Bears linebacker Brian Urlacher a "neo-Nazi" because he has short hair and white skin. Wow. Brian Urlacher? He's a one-man wrecking crew, Glenn, and to tell you the truth, I don't think he's much of a NAZI because he doesn't take to jerks like you. Mr. Urlacher is a dedicated athlete, family man, and works for charitable causes like Ronald McDonald House and Special Olympics. He is very popular, and nationally his jersey sales are in the same rank as Brett Favre and Michael Vick. So who are you calling a NAZI, crybaby?
There was some pretty good competition this week for the best lie. I picked the Brian Urlacher lie because Urlacher could tear Beck to pieces and stack them like cordwood. Since I'm a pacifist, I'm not suggesting that Urlacher should do this, and besides, he's way too much of a gentleman to beat a crazy person to a pulp. But Glenn apparently thought that was a possibility because he issued an apology the next day, probably after Stu(ge) informed him that he wouldn't look so good without his head.

Week of 7/26/10

7/26/10 – from July 25… Glenn puts up trailer on his website plugging new "Insider Extreme" presentation; asserts that Obama is "completely out of touch" with "mainstream, middle America, Christian America," who should "stand up, and say, "You do not speak for us" Let's get a couple of things straight. First, if you are looking for evidence that Obama is trying to work with "mainstream America" it abounds. Legislative fiascoes have come one after the other; what could have been strong legislation on health care reform, Wall Street reform, and energy policy have been watered down or abandoned because of Obama's penchant for working with the GOP. Obama fired Shirley Sherrod for fear of main street reaction to something she never even said. Second, the President doesn't speak for you and is not accountable to individuals or groups outside of his oath of office.
I know a lot of Americans think that their government is like a MacDonalds where they can snap their fingers and get more fries. But the fact is that the President doesn't speak for individuals, he speaks for ALL OF US. So when a lunatic fringe group of religious wakkos staples teabags onto their hats, runs around with guns strapped on their hips, and wags the flag, pocket Consitutions, and pictures of Obama photoshopped to be Hitler or The Joker, I don't want him speaking for you. You're CRACKPOTS.
As a side note, Beck points out in this trailer that he is concerned that 70 million Americans voted for "Change" and did we know what we were voting for? Yes, we did, Glenn, your fringey collection of misinformed malcontents lost by 10 million votes. So it would be convenient if you could stop referring to your 99.9% white bread, middle class audience as "mainstream" which ignores 34% of our racial/ethnicity makeup and 40% of our poor people. Shut up. You don't represent a majority of anything, except possibly spoiled middle class brats that want to freeload off the system without paying taxes.
7/27/10 – from 1/7/08 and 6/4/08. On 1/7/08, Glenn teases us with "No matter how hard the health care system tries to keep you down, I'm back", and that he's going to talk about his "personal voyage through the nightmare that is our health care system", and then continues "We seem to be now, Regina, ah, ah, ah, society or a system on health care, that is just trying to shove patients out that door." And of course "Getting well in this country can almost kill you".
Then on 6/4/08, a mere 6 months later, Glenn says "America already has the best health care in the world, we do take care of our sick" and just previously on 5/12/08 said "You're about to lose the best health care system in the world."
Glenn, I hate to break this news to you, but you are not allowed to have both sides of the argument. We either have a health care system that is a nightmare and kills people and keeps them down or we have the best health care system in the world. We can't have it both ways.
The Commonwealth Fund just released a new report on US health care delivery ranking compared to 6 other industrialized nations. Naturally, we're LAST.
Maybe one of those people who you were trying to club over the head with a shovel (scroll down to March 9, 2001) got to YOU first, Glenn.
7/28/10- from 7/27/10 Glenn promulgates and amplifies the lie told by Chris Wallace on Fox News Sunday when Chris told Howard Dean "the video had never played on the Fox News Channel before the White House fired [Sherrod] it was on Andrew Breitbart, biggovernment.com, we're not responsible for them, I agree with you that it was out of context but it wasn't on Fox News."

The claim "it wasn't on Fox News" is the lie. On July 19th, BEFORE Sherrod resigned, Fox ran a story with a still shot from the Brietbart video under the headline "Video Shows USDA Official Saying She Didn't Give 'Full Force' Of Help to White Farmer". You're BUSTED, Glenn. You and Chris Wallace, too…
By the way, Glenn Beck was still calling Shirley Sherrod a racist and accusing her of wanting to re-distribute wealth (both of those charges lies) on his July 21 program, the same day he claims to be defending Sherrod. Oh, so you're defending a socialist racist, Glenn? Puh-LEEEZE.
7/29/10- from 11/1/09 Glenn claims that the government is trying to end free speech in the media. "One way this administration and its helpers are doing it is by systematically stripping away free speech. Yes. The President and other Progressives profess to be saviors of our First Amendment rights; they love free speech. But when you pull back the curtain, like what we're about to literally do in a few moments on this program, you will see that free speech is being eradicated for controlled speech."
Glenn then plays a video clip of a news story that has been fully debunked about so-called "Obama Truth Squads" in Missouri in September 2008 (before Obama had any Presidential power, BTW), who were comprised of "Missouri law enforcement" whose mission it was to "target anyone who lies or runs a misleading television ad". "Prosecutors and Sheriffs across Missouri are joining something called the 'Obama Truth Squad'" proclaims one reporter.
But Glenn doesn't tell you the rest of the story, which is that the reporter who broke the story clarified it to the newspaper the next day.
'If they think a group has put out a misleading ad, they're basically going to call a press conference and say the ad is misleading,' reporter John Mills told the News-Leader on Sunday. 'I'm sure the Republicans would do the same thing.'

In his TV report, Mills said the prosecutors 'also say that they plan to respond immediately to any ads and statements that might violate violate Missouri ethics laws.'
The truth: some prosecutors joined a campaign effort to identify ads that might violate Missouri's campaign ethics laws. They were NOT acting in an official capacity. Nor were any Sheriffs. Nor were they working for a single candidate.(LOL)
So, Glenn, you're busted again. You take a false report from 2008 and use it to "prove" that Obama and "progressives" are trying to take away your free speech. Ask yourself a question, Glenn. Why are you still on the air? Why are you still allowed to smear and slander people, call them NAZIs, Marxists, and murderers and claim that the current US government is trying to destroy the country? If Obama was trying to limit free speech, wouldn't you be gone?
This whopper became Lie of the Week by the sheer mass of its cancerous tumor. Glenn is trying to whip up a storm of controversy where it doesn't exist… including the government shutting down 75,000 websites because they don't support socialist politics. BULLSHIT ALERT. You're a LIAR, Glen.
7/30/10 from a treasure trove of Beck madness Beck "proves" that Obama is a "socialist" on a special page of his website. The first piece of evidence offered up is that Barack Obama's father was a communist.
Whoa. I am not going to take the time today to debunk that statement, which is clearly a lie, (the link Glenn gives that "proves" this is to a paper written in 1965 called "Problems facing our Socialism". How laughable and pathetic and ignorant is that? The only thing this proves is that Glenn Beck has absolutely no inkling about what was happening in post-colonial Africa. But this is another subject.
So here's the debunk. Even if the stuff about Obama's father being a socialist or communist were true (which he is not), this clearly does not mean that his son is a socialist or communist (which he is not). He's a different person, Glenn. The plain fact is that Barack Obama is not the same person as his father, just as Glenn is not the same person as HIS father. His father is a hardworking, honest guy who, to my knowledge, never snorted coke off the steering wheel of a DeLorean while careening down the road with the wing doors open at 90 mph. So I guess the son didn't turn out like the father, did he, Glenn? To cast aspersions on someone because of what their parents did is unfair. But Beck does this in reverse all the time; he uses his mother's suicide as an excuse for his decades of alcoholism and hard drug use. Too bad he didn't turn out more like his dad.
Enough said.
7/31/10 from the same cracked link above for 7/30. Glenn says that Obama is a socialist because his mother went to Indonesia. (No, I'm not kidding). This is so effing absurd as to be bordering on the hysterical. The reason why Dr. Ann Dunham went to Indonesia was to do research in her field of anthropology. She was specifically interested in microbanking and blacksmithing. She authored a book about blacksmithing in Indonesia called Peasant blacksmithing in Indonesia : surviving and thriving against all odds. How sinister can you get?
There are several other assertions made on that same link that are supposed to somehow prove that Obama is a socialist. Most of them are this ridiculous or even more so. In these two examples Beck treats socialism like it's some kind of genetic disease that's passed from parent to child. But even THAT is based on lies about Obama's parents. Why would anyone let garbage that is so transparently false stay up on his website?
It's because as P.T. Barnum never said (this was actually said by one of his competitors and is often mistakenly attributed to Barnum), "There's a sucker born every minute."
8/1/10 Glenn Beck proves by his own words that his conversion to Mormonism has had no effect on his morals. OK, this is a very general lie, but bear with me. If you have ever heard Glenn talk about how his conversion to Mormonism turned his life around and stopped him from being the drug-crazed, drunken wild man that had zero moral character, this conversation from 7/30/10 on his radio show should put his claim into perspective. The plain fact is that Glenn does not act like a Mormon in at least one aspect; he is extremely immodest about making up gratuitous, unfunny sexually charged comments in his radio show. Here's part of his conversation about the appearance of Chris Christie on Morning Joe with Joe Scarborough and Mika Brzezinski.
GLENN: Okay, all right. Do we have any Chris Christie porn?

PAT: We do. He was on
GLENN: This is good stuff. Now listen, if you have children in the room, you might want to bring them extra close to the radio because this is the safe kind of porn, Chris Christie porn. Here it is.
– clip –
PAT: Oh, yeah, baby. Oh, that's right. Sexiest fat man in America.
GLENN: There is just I mean, I could just
PAT: I could listen to him all day.
GLENN: I tell you on a Friday night you could take this home it might not work for your wife but it might work for you. You could take this home, lay a little Barry White behind it and just listen to it and just it is better than any porn anyone could possibly play for you. I am just so hot for Chris Christie.
STU: (Laughing).
PAT: How is it
STU: So disturbing.

GLENN: You know, you watch him and you are like, I think I need to unbutton my shirt a little bit.
PAT: (Laughing).
GLENN: Hang on. Chris Christie's coming up. Turn down the lights, maybe light a candle or two.
PAT: (Laughing).

GLENN: And coming up, Chris Christie. Hang on, I think I need to run a hot bath.
PAT: (Laughing).

GLENN: By the time he comes on, I've got flower petals all around the TV. Oh, yes.
PAT: Yes.
GLENN: Do it to me again, Chris! Say it again! Say it again!
VOICE: And it's not going to be pretty, but this is about freezing salaries and healthcare benefits for teachers in your state who are already feeling very shortchanged. Take a look.
VOICE: You are not compensating me for my education and you are not compensating me for my experience.
GLENN: Listen how it comes out just disgusting?
CHRISTIE: You know what? Then you don't have to do it. I mean, the simple fact of the matter is…
GLENN: Yes! Yes!
VOICE: Teachers do it because they love it. That's the reason I do it.
CHRISTIE: Well, and listen. Teachers go into it knowing what the pay scale is.
VOICE: That's right.
BRZEZINSKI: Okay. Welcome to your world.
CHRISTIE: Yeah.
PAT: And he's like, yeah. Well…

GLENN: You know what? And even those a little erotic.
PAT: Yeah, it is.

GLENN: You know, Mika going, oh, I'm disgusted by you.
PAT: (Laughing).

GLENN: Hang on, Mika. I think I need to unbutton my shirt another button down.
PAT: (Laughing). Her turnoff is our turn on.

GLENN: Turn on, yeah. Turnoffs, turn ones. Oh, Mika is my turnoff. My turn ons? Mika being turned off by me or Chris Christie. Oh, I am so hot for her being so cold for me.
I am not trying to present this as a conversation that is out of line by today's media standards (sadly). However, it is out of line for a Mormon on the radio to be making comments about getting hot for porn. This is a quote from a website about Mormon sin and confession; the poster is a former bishop:
Having been a bishop (and willing to place a bull's eye on my back) I'll take a stab at it.

First, talk to your bishop about things that might get your temple recommend pulled or keep you from getting one.
Morality certainly. Including, but not limited to: Po#n, centerfolds. Masturbation. Petting. Fornication. Adultery.

WoW. Coffee. Alcohol. Tobacco. Eating meat. Not really the last, I thought I'd see if you were really paying attention. Dishonesty. Theft. Non-payment of taxes.

After having completed my service as bishop, I feel that I would include gossiping and back-biting in this category.
This radio clip is obviously a slap in the face to the "morality" of the Mormon cult which they have turned a blind eye to for months. They refuse to distance themselves from Beck, so they own him.
==========================================
Week of 8/2/10
8/2/10 – From July 27, 2010. Glenn claims that the August 28th "Restore Honor" rally on at the Washington Monument will be "non-political". Of COURSE it will be non-political, Glenn never lets politics get in the way of his "honor". Who is he trying to kid? First off, his keynote speaker is the queen of mama grizzlies, Sarah Palin. Now SHE wouldn't ever say anything political, EVER. Ted Nugent? Of COURSE not. He's as neutral as can be. Almost all the advertising on this event is on Glenn Beck's website, his radio show, his TV show, and Fox News. The rest of it is on 9.12 Project websites. So the target audience is surely people who are politically neutral, isn't it? And the date, on the anniversary of Dr. King's speech about freedom and jobs… no political connection there. So, um, what sort of people are likely to go hear Glenn Beck, Sarah Palin, and Ted Nugent speak? Obviously, it will be SEIU and all the other liberal commie socialists. They'll want to go there so they can change their rotten ways and become honorable.
But the biggest giveaway is the name of the event. "Restore Honor". The implication is that America has lost its honor, and we all know how THAT happened. It happened when we elected an illegal alien to the office of President and he surrounded himself with Commies to help him take the country down the path to surrender and socialism. At least that's what Beck and his speaker list want you to think. Not political? Not on your life.
8/3/10 – From May 17, 2010. Glenn claims that "progressives" tried to fix things around 1900 but it crashed the first time (?)
It didn't work the first time because they knew they had to fix three things:

One: Undermine the Constitution. They had to get us off the Constitution. Stop reading it. It doesn't matter, it doesn't matter. Just look at this flaw. OK?

They also started case law — study case law instead of the founders' words.

The second thing they had to do is undermine the Founding Fathers. We loved these guys up until about 1920 to 1940. And then we started losing interest in them, OK?

We loved them! They had to take them apart. It's 1920-ish that they first start revealing that they're just racist, white rich guys. OK?

Then the last one was: undermine faith and religion.
Jezus, how many lies can a person tell in one paragraph?
First off, the Progressive movement that started in the 1880s grew out of the Populist movement. The Progressive line of reasoning was that unfettered capitalism had created a situation in American cities where immigrants worked as slaves; in the country farmers couldn't get fair prices and were always one bad crop away from losing their farm to corrupted banks and trusts. The middle class did not yet exist.
The Progressive's battle was not against the Constitution, instead it aimed to regulate American commerce so that the common man could get a "Square Deal" when dealing with the powerful interests that controlled every aspect of the government and economy. So it was a reform movement, and the results of the reform as well as the targets were mixed. During the period Glenn Beck is talking about there were several Constitutional Amendments passed.
The 16th Amendment allows the federal government to collect income tax and distribute it without apportionment or census results. I know some of Beck's people believe this to be a heinous crime; however, it is an amendment that was passed by Congress and ratified by the American people. It is extremely difficult to get an amendment to the US Constitution. In this case, 42 out of 48 states ratified the amendment, which means that America agreed to tax ourselves. This is not an attack on the Constitution, it's proof that it is a living document.
Also passed in this time period that Beck is carping about were the 17th Amendment (direct election of US Senators) in 1913, the 18th Amendment (prohibition, very bad idea, and a Progressive one) in 1919, and the 19th Amendment (woman's right to vote). There was no attack on the Constitution. There was progress and a few setbacks in the period, mostly progress. The middle class came into existence. Public schools, workplace safety, the end of limitless corporate power, the rise of the women's movement, settlement houses, and scores of other important changes that saved many lives, ended squalor and poverty, and gave people at least a basic education so they could bootstrap themselves out of the status of paupers.
I have no idea where Glenn Beck gets the idea that early 20th Century progressives were anti-rich-white-guy-Founders. That's just made up. Progressives in this period were not oblivious to racial prejudice, but it was not the focus of the movement. Neither was ignoring the Constitution. Neither was substitution of case law for the Constitution. I know Glenn knows better than this. These comments were made to a Founders Friday group to set them up for another Progressive-bashing, this one about religion and the founding of America. So later on in the program, which is about the life of British Bible-thwacker George Whitefield, we finally get to the real meaning of this entire program. The point? American kids are being deprived of their history because we don't talk about religion in schools. But that's false. We TALK ABOUT RELIGION whenever we want. We just don't PRACTICE it.
Glenn, YOU LIE.
8/4/10 – from 10/24/09 – While ranting about health care reform with slurred speech (some say he was drunk), Glenn compares Obama to Al Capone, plays clips from the Costner version of The Untouchables, and says after the dinner scene where Capone murders the mobster with a baseball bat to the skull,
The lesson from that movie is, you gotta take a stand. Even though you know, in the end, you'll pull out a knife and they're gonna pull out a gun. [ nodding solemnly] The question we have to ask ourselves, What is it we truly believe in? What do we believe in? Who are we? Are we the guy who sits around the table in fear? Or are we the guy who stands up and says, 'Hey! What the hell are we all doing? He's one guy! There's more of us than there is of him.' But I warn ya. You have to ask yourself, if you stand up, what are you willing to do? Sure, you might get whacked. But let me tell you something. [Glenn picks up baseball bat again] You spend too much time in bed with the mob, you spend too much time at that table, you're gonna get whacked eventually anyway.
Glenn is warning his audience that if they don't stand up and fight (with baseball bats, knives, and guns elsewhere in the program) they are going to be "whacked" by Obama. That means killed.
Insane, drunken ranting doesn't pass for political discourse and since Glenn can't prove that Obama has "whacked" one single person, I guess his murder accusation doesn't hold any water. FAIL.
8/5/10 – from 5/26/10 – Beck claims that the Purple Heart is a bogus Progressive perversion of the Badge of Merit instituted by George Washington (in a directive written in his New York headquarters on August 7, 1782). He pledges to correct this in the first 15 minutes of his 8-28 "Restoring Honor" rally. The quote:
Glenn Beck: Today, we announced the first 15 minutes of the 8-28 event and the people that will join me on stage. We announced that we are going to start — restart the Badge of Merit that George Washington gave his troops. It's what the Purple Heart is based on, except the Progressives — what a surprise — in 1933 introduced the Purple Heart.

The Purple Heart was based on the badge of merit by George Washington. It had nothing to do with being wounded in action. It had everything to do with doing something of honor and integrity, something to — something that — where you really put your neck out and you did something of real merit, not just getting shot — not that that's —

But he was trying to build people that understood honor and merit and integrity and God.
Let's see where Glenn falls apart. It's true that Washington gave the Badge of Merit to his troops. Did it have anything to do with being wounded? Glenn Beck says it didn't. "It had nothing to do with being wounded in action." Whoa up, there, Glenn. Verbiage fromWashington's directive: "Let it be known that he who wears the Military Order of the Purple Heart has given of his blood in the defense of his homeland and shall forever be revered by his fellow countrymen." Was George talking about a blood donation drive?
Now let's get to the obligatory demonizing of Progressives. Beck says the Progressives "introduced the Purple Heart in 1933″. Glenn says he does all of his own research. Maybe he just doesn't have time to check out everything, or maybe he just MAKES IT UP. Want facts?
The Badge of Merit was never really implemented and in fact only 3 were ever given out. It was largely forgotten about until post WWI. On Oct. 10, 1927 General Charles Pelot Summerall directed that a draft bill to revive the Badge of Merit be sent to Congress. (So this came from the military, not the Progressives. Hmmm.) This request was effectively tabled. On On January 7, 1931, Summerall's successor General Douglas MacArthur ("I will return!") reopened the drive to reinstate the Badge and through a process too detailed to describe the Purple Heart came into being. (Again, this originated from the military, not the "Progressives"). Originally it was to be awarded for both shedding blood AND meritorious service. However, when the Legion of Merit award was established by Congress in 1942, the Purple Heart ceased to be given out for meritorious service and was reserved to honor battle injury and death.
There are several other medals given for exceptional military service, including the Medal of Honor, Distinguished Service Cross, Distinguished Service Medal, Silver Star, Distinguished Flying Cross, Soldiers Medal, Bronze Star, Army Commendation Medal, and Air Medal.
So why is Glenn Beck lying about the history of the Purple Heart and Badge of Merit? Here's a thought. Beck is so imbecilic that he thinks that denigrating hundreds of thousands of Purple Heart recipients as not "really put[ting] your neck out and you did something of real merit, not just getting shot", is somehow going to help him kick start his failed "Restoring Honor" rally, even though the recipients of this charity event are all Purple Heart families.
It boggles the mind.
8/6/10 from 8/5/10 – Beck claims that unions killed Americans' pensions and drove American companies out of business. "The unions, who have collapsed all the businesses, who have collapsed all of their pensions, they're bankrupting everything they touch, and we go to them and say 'Hey, tell me, what should we do'" Totally false. American union membership has declined and unions have less political clout today than they ever had. In fact, since Reagan took the reins and began his war against unions, percentage of union jobs has fallen down to about 7% from about 35%. You can just about tack the percentage of jobs with a living wage onto this same line.
At the same time that unions were dying, American business was living high on the hog. Remember the Clinton years? Boy howdy, we had a blast, eh? Then came the Bush downer. Finally the drunken spending spree on war, fancy investment derivatives that nobody understood, obscene management salaries, outsourcing, offshoring, and other folly began taking its toll, leading to the crash in September 2008. As you can clearly see, the unions had nothing to do with it, nothing at all. This was a top-down problem, and as someone who spent 25 years as an electrical engineer working for some of the world's biggest non-military companies, I can tell you that Glenn Beck doesn't know his ass from a hole in the ground on this issue. I saw hundreds of millions of dollars of waste due to absurd, insane top-down edicts that anyone on the factory floor could have told you was wrong. Enough. Here's another graph you should see… the % of corporate profits of GDP since 1948. Notice that since union membership peaked in 1980 and then began a steady decline, corporate profits have trended up. This is classic "wealth redistribution", this is the "smoking gun". The people on the factory floor who actually DO THE WORK make less and less while investors who sit on their asses and rake in unearned income are making out like bandits.
That's the way you do it, money for nothing and your chicks for free.
Oh, and since the 1980s pension plans have largely given way to individual IRAs which are based on matched employee contributions into the stock market; sometimes the company matches up to 6% of your salary, either with cash or their own stock. So it is fair, in my opinion, to say that pension plans are tied directly to the stock market.
Well, here's another graph for Glenn. This is the S&P 500 performance since 1950. Can you see any correlation between the union membership graph and American investments performance? Yeah, I can. Union membership has continued to drop, the markets have continued to grow for the most part.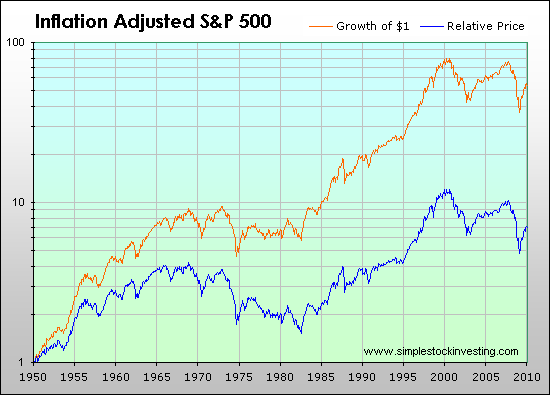 If you can think of another graph that belongs on this debunk, please post it or write to me here wexler@glennbeckreport.com
8/7/10 – From 2/20/10 – Glenn calls Herbert Hoover a "Progressive" during his CPAC speech. In Glenn's mind, anyone who disagrees with his political point of view gets some kind of label. "Progressive" is the catch-all when none of the usual ones fit. (It would be hard to argue that Hoover was a socialist, communist, Marxist, NAZI, or fascist.)
The problem here is that Glenn is lying. Herbert Hoover was not a Progressive, he was a Republican. Republicans are not Progressives, no matter what Glenn says nor how many times he repeats it. Hoover believed that there were inefficiencies in government and business that could be "fixed" (read that as "downsized"). That sounds quasi-progressive, which makes sense because Hoover was an engineer. Progressives believed in efficiency in production and management methods to increase production and make the workplace safer. Hoover took it a step further and pushed for a close integration of business with government. That's not Progressive, that's Reaganomics. Another pathetic FAIL.
8/8/10 – from 8/16/10 – Glenn rants that all the participants at the 99er rally in New York are lazy bums who should just take whatever job they can get, even if they hate it, and get two jobs if necessary. Then he accuses them of being part of the one world labor movement: "These aren't regular people, these are Workers of the World Unite, these are SEIU people, AFL-CIO, the Democratic Socialists of America… that's not regular people, they're socialists and anti-capitalists.
It's true that there are some people that are so far out in right field that people in the center look like they're in left field. That's the problem with Glenn Beck's view of the Labor movement. The Labor movement in this has dabbled with both political parties as it jockeyed around to try to get the best influence as a lobby. As you'll find elsewhere on the this site, I documented the effects of the union-busting Reagan on our nation's union population. The key point here is that unions are interested in political power and clout which will give them the best shot at negotiating with their company.
This is where Glenn's argument turns into a total sham. He tries to demonize the groups of people that he mentioned by name-calling (oooooo, socialists) but he has one great big FAIL staring him in the fat face with this approach. Sometimes the unions have sided with the GOP, sometimes with the Dems, but they have never sided with the "socialists" because there is no such party in the US. Get it? There's nothing to side WITH. When you argue this point this way it makes you look stupid as well as dishonest.
The other thing Glenn never mentions is that unemployment is not an entitlement, it's an insurance policy. Every person who gets a reportable income pays into the unemployment insurance fund, and right now it's coming in mighty handy for those people who would be dumpster diving for food and living in their cars without it. Oh, and by the way, you don't get rich on unemployment. Try running a house on $225 a week sometime. It probably won't even pay one of these… your health insurance, your mortgage, your combined credit card and other debt services. So this unemployment ain't great, Glenn. Yeah, I know you've been fired a few times so you know what it feels like. But blabbermouth liars like you are in demand over to the Fox News Channel so you'll have a job until Murdoch decides he's sick of running your no-sponsor show out of his own pocket. Back to the insurance aspect of this. Terms of agreements can CHANGE. Look at income tax. The rates keep changing in favor of the richest people in the country, pushing the debt load down on to less affluent people who can't afford it. If tax rates can change, then why can't the number of weeks of unemployment compensation change? It's all coming from the same place, except that workers are buying insurance in this case instead of paying taxes.
======================================
Last week's Lie of the Week was kind of a tough choice because of so many really good ones. 8-28 Rally is going to be "non-political"? Yeah, right! That's why Sarah Palin and Ted Nugent are on the speaker platform! LOL. The one about unions destroying our pensions is one that I find absolutely despicable because ever since I entered the work force in a "real" job, no company I worked for even offered a "pension" plan. And it had nothing to do with unions. It was due to the company's greed. They wanted to do 401ks so bad they could taste it. I don't think much of Beck belittling the 99ers. These are people who are stuck between a rock and a hard place, and now they've got a loony tunes telling his followers that these people aren't even "regular" people, they're "socialists". Well, of course that means that they don't have kids, car payments, church offerings, medical bills, and so on. What a douche Glenn is.
But I chose the one about the Purple Heart because Beck is about to step on a land mine on the steps up to the podium. He has pledged to begin his "Restoring Honor" charade with a skit about George Washington and the Badge of Merit, which was perverted by the mean old socialists into the Purple Heart, a downgraded POS medal that didn't mean you actually did something of merit, all you did was get wounded or killed. The superb irony of this, of course, is that the charity recipient, Special Operations Warriors Foundation, gives out scholarships to children of fallen soldiers. Every one of their recipients is a Purple Heart family.
Let's see you wiggle out of that one, Glenn.
18 Responses to 'Lie of the Day Archive'
Leave a Reply